TIMES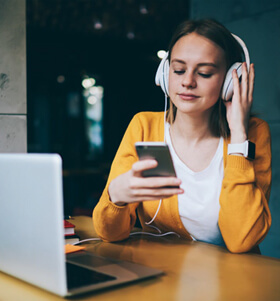 SPENDING TIME ONLINE
We know that as a student you spend a large part of your days on the internet, whether that's research, homework, social media, streaming videos or gaming. According to a study conducted with students aged 18 – 29, about 40% of them reported spending between three to four hours a day working online, between one to two hours a day on social media and on average, an hour streaming videos online.
That's why at The Myriad Dubai we have assured that there will be seamless internet throughout the community. For those of you who don't know what seamless means, basically, whether you are in your room, working out at the gym, relaxing at the rooftop pools, having a latte at the coffee shop or getting in a quick run around the jogging track, your internet speed will be more than enough to stream a full HD video. WOW!
WHAT YOU WON'T FIND AT ANY OTHER STUDENT ACCOMMODATION IN THE UAE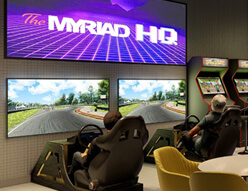 We are proud to announce that you will have a fully-fledged retro themed arcade available at your doorstep. Imagine being able to walk downstairs into an arcade room fitted with an indoor cinema, VR Rooms, e-sports lounge and a 'war room' which gives you the chance to play multiplayer games online or with friends. Well, you don't have to dream, it's yours… Wild? We know!
Please visit our website and give us some ideas of games you would like to play on the Xbox, PS4 and PCs by emailing info@themyriad.com. The top games will be included for your enjoyment.
DON'T LEAVE IT TOO LATE
There has been an influx in applications to universities in Dubai, so it may be a good idea to get started on the application process right away. The application process may seem daunting at first so here's some reasons why studying in Dubai would be a great opportunity to grow and get some exposure!
Over 85% of the UAE's residents are expats. Living and studying with people from different nationalities will help you develop traits that reflect a 'global citizen'.
Dubai is the leisure capital of the world. At any given time of the year you will find celebrities and sport stars roaming around the city. From international sporting events and food festivals to music performances from your favourite artists. It never ends in Dubai!
Dubai is one of the safest places in the world. Therefore, parents feel more relaxed sending their children to study here. People follow a strong moral code of conduct and this gives a sense of comfort to everyone who lives here.
The UAE encourages reputable universities to set up campuses in Dubai. So, you will receive an internationally recognised degree and if you wish, you can go straight into a post-graduate degree anywhere else overseas.
Once you complete your studies here in Dubai, you will have a much higher opportunity to apply for jobs and get employed here as well. As you very well know, Dubai has a very diverse economy with opportunities in every industry.
So, sort out those applications and get yourself ready to live and study in the dream destination – Dubai.
CONNECT WITH US
The Myriad Social Media pages are up and active on the following platforms: Instagram, Facebook and LinkedIn. Follow us to stay in the loop! This is where we connect with you and keep you up to date with any questions you may have, please go through our posts for more information. If you have any questions, feel free to comment on our posts or send us a DM.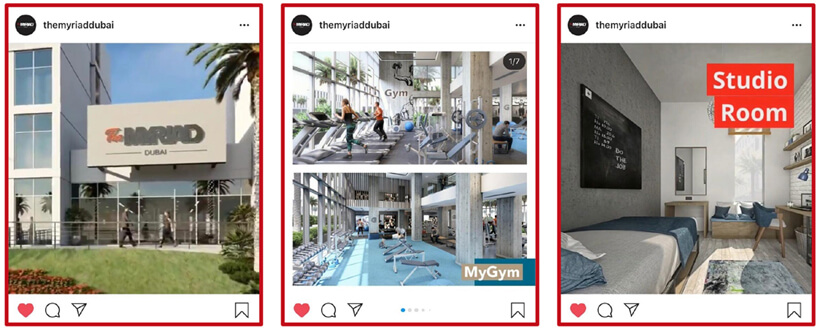 STAND A CHANCE TO WIN AED 500!
We are running a competition through our Instagram account. In order to enter, all you need to do is go to our profile, mentioned above, follow us, like our most recent post and comment three friends' names.You then will be entered into a draw to win an Amazon gift voucher worth AED 500! Now that's easy money. This contest will run until June 7th, 2020.
APRIL COMPETITION
Last month was extremely busy with the exam period and distance learning. For this reason, we have extended our previous competition until June 7th, 2020. Visit our website to enter and get your hands on a prize!
WE DON'T MEAN TO BRAG
But we thought we might as well let you know, our Studio Rooms are not only equipped with 43-inch HD TVs but they are loaded with apps to keep you entertained including Netflix, Amazon Prime Video and YouTube. The TVs have Chromecast or screen mirroring capabilities and TV channels to keep you up to date with local and international news and sports.You're welcome.

DID YOU KNOW?
Dubai has the longest automated train network in the world. It stretches for74.6 kilometres and offers modern, comfortable services. It's a great way to explore the whole city on a budget.